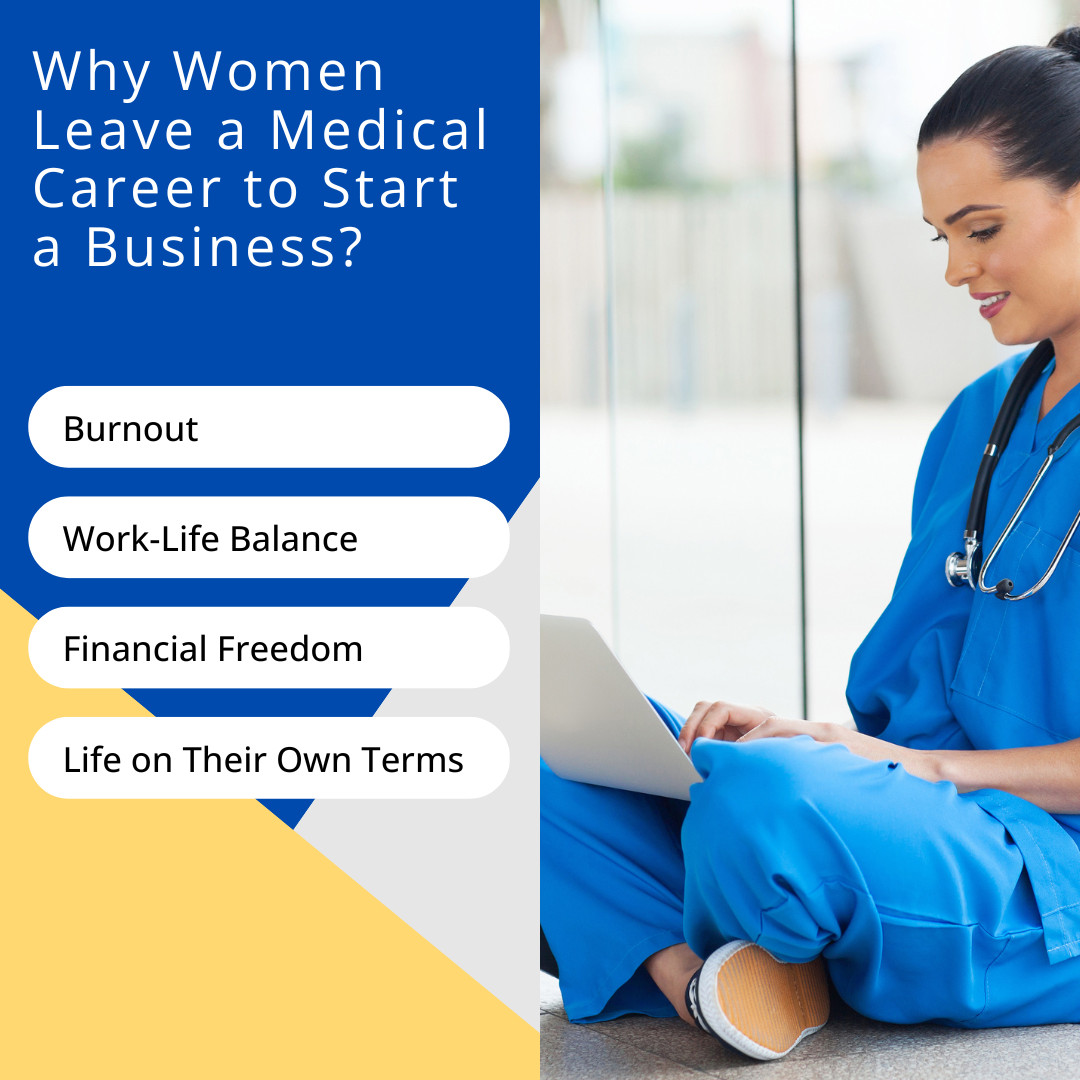 As a woman, leaving a medical profession to start your own business is a big step. It takes courage, dedication, and passion to build a business from scratch, especially when you don't have a business background.
The good news is that many physicians, nurses, and other medical professionals have successfully transitioned into entrepreneurship and built a thriving business in a different field.
In this blog post, we will explore the reasons why women in the medical profession leave their careers to start a business, the challenges they may face, and the strategies they can use to succeed in their new venture.
Why Do Women in Medical Profession Leave to Start a Business?
There are many reasons why women in medical professions leave to start their own business. It could be burnout from working long hours, the desire for more autonomy, or the need to pursue a different passion. For some, the medical profession can be rigid and bureaucratic, and the entrepreneurial spirit offers a way to break free and be more creative.
Many women in the medical industry also struggle with the gender pay gap, which can be a powerful motivating factor in driving them to seek financial freedom and create a life on their own terms.
Additionally, starting a business can offer a desirable work-life balance and flexibility, allowing more time with family or pursuing other interests.
Despite the fact that women are increasingly pursuing entrepreneurship, starting a business comes with its own set of challenges in general, and these challenges can be compounded in the medical field.
One significant obstacle is the cost of starting a business. Many women in medical fields come from a specialized and highly educated background, and without prior business training, they may find it challenging to accurately estimate costs and potential income.
Start-up expenses such as legal fees, marketing, and leasing or buying space can add up quickly, and the financial strain of the initial stages of a new business can be overwhelming. It's essential to have a solid
business plan
and budget with a careful review of capital sources to ensure financial stability for the first few years of the business.
Another significant challenge faced by women in the medical field is understanding the new customer base. Hospitals, clinics, and other medical facilities make up a unique industry that is based on care and expertise. When starting a new business in a new industry, understanding the preferences and needs of potential customers can be tricky. It's key to conduct thorough market research to discover the customer base for your business, understand pain points and preferences, and develop a comprehensive
marketing plan
that establishes your brand and earns you recognition.
Customer trust is essential in the medical field, and a thoughtful marketing plan focused on the customer's needs can go a long way in establishing a loyal customer base.
Women making the transition from medical professions to starting their own business may also face credibility issues. Building reputation and trust is a significant aspect of entrepreneurship, and without experience in the specific industry, establishing a trusted network of customers or investors can be much more difficult.
To develop a strong reputation and trust, focus on building an effective personal branding strategy, establishing
social media profiles
, and even writing articles or research papers to establish subject matter expertise in the new field.
Strategies for a Successful Transition
With enthusiasm and a willingness to learn, women in medical professions who are leaving to start their own business can ultimately overcome the challenges they face. To ensure their success, it is essential to keep these strategies in mind:
Get educated before starting
Get proper education from resources available online and material produced by several entrepreneurs out there to ensure the best chance for success.
Develop a comprehensive business plan with your target market and goals in mind.
Find reliable co-founders, partners and mentors
Those who can offer insight, advice and mentorship that you can draw upon as you navigate launching your business.
Research startup cost options that are suitable for your business launch strategy. It is essential to limit spending required to not overload the business with too much debt.
Social media channels like
YouTube
,
LinkedIn
, and
Facebook
can prove instrumental in targeting specific customer segments and advertising your products and services.
Build a Strong Reputation
Establish a strong reputation for professionalism, and consider adopting professional codes or memberships to further establish credibility.
Starting a business takes time, perseverance, and patience. Be modest in your expectations and give yourself time to achieve your goals.
Starting a business can be challenging, but it's also a rewarding experience, providing opportunities to achieve financial independence, establish greater work-life balance, and pursue new passions. Women in medical professions can succeed as entrepreneurs and bring a different perspective to the industries in which they operate.
By conducting thorough market research, developing a
comprehensive business plan
, building a strong reputation, and maintaining patience as they learn new skills and adapt to their new roles, women in medical fields can achieve great success in their new careers, both personally and professionally.
Connect with Suzy Wraines:
Check out Starting Your Practice Simplified Online Course
Download Starting a Business Simplified Guide
Schedule a FREE Setup your Business Session